Sell More! Promote Your Business with These 5 Social Media Platforms!
Many business owners and marketers today would agree that social media is a total game changer.

Social media is one of the most effective marketing tools for businesses to reach out to new customers and raise brand awareness.

The best part is that you can begin at any time and from any location.

It is never too late to start using social media marketing for your business. And we've compiled a list of the top five social media platforms for business promotion.

#1. Facebook
 Credit: Giphy
In 2016, there were over 18 million Facebook users in Malaysia (DigitalnewsAsia, 2016). Jump to four years later; the number escalated to 24 million users, that makes about 77% of Malaysia's population (Marketing Signal Lab, 2019). Isn't that crazy?
Because almost everyone is on Facebook, this statistic indicates that it is a fantastic platform for businesses to begin marketing their products.

And for that, you'll need excellent content marketing strategy!

When people watch a video on Facebook, they are looking to unwind or have a good laugh. Any aggressive sales promotion will turn them off.

As a result, your content should always reflect your brand's stories and demonstrate your authenticity. What distinguishes you from other brands and how can your audience relate to you? By answering these questions, you will be able to determine how you can potentially convert them from leads to potential customers.

To begin, create a Facebook Business Page for your company. The procedure is straightforward, but you must pay close attention to the information you include on your business page.

Include eye-catching visuals as well as useful information for your company and audience.
 

#2. Instagram
 Credit: Giphy
Instagram continues to grow in popularity, with over 11 million users in Malaysia (Statista.com). The most recent update demonstrates how Instagram, like Facebook, has evolved from a photo-sharing platform to a marketplace. 

A lot of businesses make the mistake of not having an Instagram business account for their brand.

Because, in reality, businesses can reap numerous benefits from promoting their products on Instagram, including increased traffic to their website and brand visibility.

Creative promotional visuals are appealing and can help your brand get noticed. Still, the behind-the-scenes photos that capture your stories are priceless gems that will elevate your brand even further.

Use Instagram's power for your business today, and, like Facebook, you can use ads to market your products.
#3. Twitter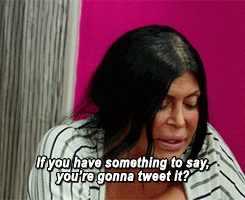 Credit: Giphy
Want to broadcast your messages or any updates about your business? Then, Twitter is the answer for you. 
It can also help businesses engage and nurture relationships with their target audiences.
Be fun and proactive in your tweets, and please don't make it all about your business.
Intersperse your promotional tweets with jokes, and encourage your followers to interact with you by retweeting them whenever possible.
Most importantly, interact with your fans. Twitter is primarily a communication platform, but it doesn't hurt to include cool gifs and photos in your tweets to make it more interesting.
#4. YouTube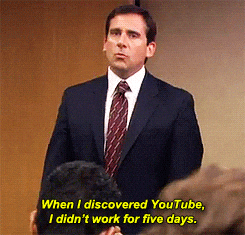 Credit: Giphy
With millions of subscribers, YouTube is the most popular video sharing platform. Please do not underestimate the power of video in terms of providing your customers with easy access to information.

Some people dislike reading a lot of information, and video can help to deliver that information in a more engaging way.

Do you know that videos have the ability to persuade your customers to make a purchase? According to Digitalmarketinginstitute.com, over 90% of consumers say videos help them make a purchasing decision.

To entice your customers, you can create educational content videos as well as creative promotional videos.

Demonstrative videos such as how-to and tips and tricks can also help you build your brand. Over 90% of consumers claim that videos help them make a purchasing decision (Digitalmarketinginstitute.com).
Demonstrative videos like how-to and tips and tricks also work well to build your brand.
#5. Tiktok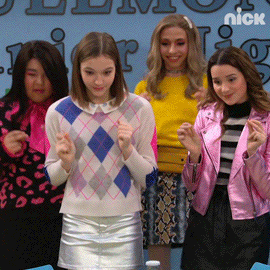 Credit: Giphy
Tiktok has made our list because of its potential and popularity. This platform is widely famous among youngsters but never say never.

But yes! In 2020, Tiktok has officially launched Tiktok for Business, allowing businesses to promote their goods and services.

With their headline- "Don't make ads, Make Tiktoks", this platform certainly inspires creativity and implores all businesses to be creators!

Many more people join in the fun, which makes it ideal for any businesses to start selling on TikTok with promotional contents.

Should you promote your business on this platform? If your target customers are on this platform, we don't see why you shouldn't!

There are many TikTok effects and filters that you can use to create visually appealing and informative videos. It is all up to you and your team's creative bones!
Each social media platform has its different approaches and base audiences. It will be best for you to plan and devise strategies to tackle each platform to suit each platform's requirements. 
Reference:
Statista
Marketing Signal Lab
Digital News Asia
Digital Marketing Institute